Standard roses are created at the time of propagation by growing the rootstock longer and budding the desired variety at the top. Creating this extra length of the understock involves more time and effort and is the reason why standard roses are more expensive than their bush counterparts. Standard roses are also double and sometimes even triple budded to allow a more rounded head to develop.
Most rose nurseries in New Zealand produce standards in several heights, depending on the type of rose budded on top. The height of the standard refers to the distance between the roots and the bud unions
450mm (1 ½ ft) – Most standards grown at this height are miniature and patio cultivars, although some shrub/groundcover type roses are also produced on this size stem and are called mini weepers
800mm (2 2/3 ft) – Most bush roses, including some Austins and Old Fashioned are grown this height. Shrub and groundcover type roses are also grown at this height as weepers
1800mm (6ft) – At this height, only shrub/groundcover type roses are grown as tall weepers. A recent variation of this height has been pillar roses, with a cultivar budded 6 – 8 times the length of the stem creating a pillar of colour.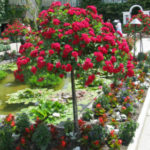 Apart from your own preferences such as colour, form, fragrance and garden display, the main characteristic you need to take into account when selecting cultivars to grow as standards is their height. Strong winds will break off new growth and blooms while taller varieties will have their blooms higher in the air.
Short to medium growing cultivars are the best while taller cultivars and those with an upright habit are best avoided. Floribunda type roses often seem to the best as a standard as they are generally fit the above criteria and are quite free flowering as well.
Standard roses offer many potential uses in the landscape and we should all try and incorporate at least one standard rose into our gardens just to show how things can be done.
Patio and miniature standards (450mm) can easily be grown in containers provided you do the basics right and re-pot every few years. Under plant with seasonal annuals and you will have a very colourful show. Potted mini and patio standards also make great gifts.
If you are going to grow standard roses of any type in pots, it will probably pay to have a very heavy pot or anchor it down by some means.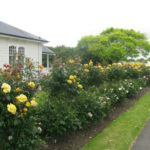 In the garden, mini/patio standards can be used in many more situations than taller, bigger standards. Use them to edge a path or driveway, or cover up a low wall or fence.
Bush standards, because of their extra height, can be used in many situations from lining a driveway to framing an entranceway. If you want to screen away a fence or wall but don't want the hassle of a climber or have the room, then consider some standards instead. You can also use standards in among your garden to give a bit of extra height where your garden is quite flat.
Weeping standards and pillars are best used open their own as a focal point in the garden, either by their own or under planted with low growing plants.
Standard roses have few special requirements over and above that of any other rose you grow. The most important thing when growing standards is to stake them well so they won't be blown over or come apart. Invest in some good quality stakes and ties. For weeping roses, special supports are available to train them on.
Before you plant your standard, drive in your stakes so the root system won't be damaged. It will need to be tied up as well. It is suggested that you use only one tie at the top of the stem just below be bud union. This will allow for some movement and if the tie fails, then the only thing that will happen is the rose will fall over rather than snap off.
When it comes to pruning your standard, there isn't much difference to your normal roses. Try and aim for a rounded shape when pruning and don't be afraid to go a bit harder than you would on bush roses.
Standard roses are another way of growing the world's favourite flower and offer different ways of incorporating roses into the landscape. Standard roses are propagated specifically for the purpose and come in several heights, although there is a good range of types and colours to choose from. They are just as easy to look after as ordinary roses but do need to be staked very well.