The New Zealand Rose Society produces the following  publications free to its members.
New Zealand Rose Annual
Contains a range of articles from New Zealand and overseas. Printed in full colour. Published in June/July each year. Download table of contents. 
New Zealand Rose Review
Features members top favourites, review of newer roses, trial ground results and advertisements from rose nurseries with new release roses. A must if you are planning on purchasing some new roses for your garden this year. Buy your copy here…
Download table of contents here 
Cultural Handbook
A valuable reference on all aspects of growing roses. Contains information and advice on a range of topics and includes many diagrams and photos. A month by month calendar lets you know what you need to do with your roses. Issued upon membership of the New Zealand Rose Society. Download table of Contents…
Other publications that are sold by the New Zealand Rose Society (Inc)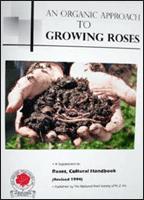 An Organic Approach to Growing Roses – A supplement to the cultural handbook that provides information and advice on how to grow roses by using more environmentally friendly methods.
Official Rules for the Judging of Roses – The official rules by which all rose shows are judged in New Zealand. Essential if you go down the path of being a judge but also handy for exhibitors to have a copy.
Guidelines for Judges and Exhibitors – Contains information aimed at educating exhibitors including tips, definitions and what is acceptable and what is not. All exhibitors should have a copy in their show kits.

The Kiwi Gardener magazine runs regular features on various aspects of growing roses, with input from members of the New Zealand Rose Society (Inc). Subscribe online here