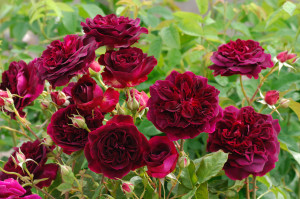 David Austin or English roses have always been popular with New Zealand gardeners with their old fashioned blooms and fantastic  fragrance. This month, we feature one of the newer varieties to be introduced to New Zealand and a welcome addition to Austin roses in this colour range.
English rose, 'Munstead Wood' features very deep velvety crimson cupped blooms with lighter outer petals and a strong old rose scent. A bushy, spreading grower, it is ideal for growing along the front of the garden, mixed in with other flowering plants. It has good disease tolerance with red bronze new foliage, turning to mid green as they age.
Named for the home of well known horticulturist and garden designer Gertrude Jekyll in Surrey, England, 'Munstead Wood' is an award winner in several overseas trials and is already becoming a favourite among New Zealand fans of the English roses.
Photo courtesy David Austin Roses