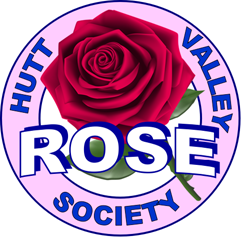 Meets on the the first Monday of February, March, April, May, September, October and November.
Where?The Hutt Baptist Church, 132-146 High Street, LOWER HUTT, 5010
When? 7.00pm for a 7.30pm start.
Meetings feature fellowship with other rose growers and rose lovers across greater Wellington, seasonal rose growing tips discussions and information, a variety of guest speakers, and more!
President  Jill Merrick  04 234 8693 email:  jillymerrick@gmail.com
---
Regretfully due to a publishing oversight this article has been missed from the Rose Annual.
So, we've reproduced it here instead!
Hutt Valley Report for New Zealand 2017-18 Rose Annual
Report by Jill Merrick
One of the highlights of our year was a bus trip to Moore's Valley Nurseries and to 8 gardens over in Wainuiomata. The gardens ranged in size from townhouses to a sprawling garden over 5 acres. Many of the gardens had beautiful rhododendrons and maples. As it was spring we admired many hellebores, aqualegias, fuchsias – and of course the roses.
The tour was well-organised with the large gardens being viewed early in the morning when our members had more energy for a ramble and the smaller ones in the afternoon. Every garden had something unique and charming for us to admire.
One of our long-serving members Allison Scott has now celebrated 50 years with our Society!
Many will know Allison who has been predominant in rose circles over the years and is firm friend of many.

Allison reminisces…
It was a two shilling bundle of books, brought at a school fete, that started it all, and included was a Rose Annual!  
I had recently purchased six roses from what was Zenith's garden shop in Manners Street, Wellington city. The six were their choice, and of the six probably only Peace and First Love remain on the market. 
I joined the Hutt Valley and Eastern Harbour Rose Society (as we were called then) the following week. Three months later I became the Secretary.  We had over 200 members, with 15 on the committee and the subscription was thirty shillings.
I have served on the committee for 48 years, as President. Secretary, Show Convener, and have been the news letter editor for over 37 years. I also served on the National Council for a number of years.
I have been convener of three National Conventions, and in 2000 was awarded the Frank Penn National award for services to a district society.
Another highlight was selling 1,000 miniature roses at Hutt Hospital, for more than you could buy them for in the garden centres! I have been involved in various fund raisers, bus trips, garage sales and providing retail shops with weekly bunches of roses during the flowering season.
None of the above could have been achieved without the support and help of our members, and some great committees.
Becoming a National judge and exhibiting around NZ has been a joy, I have made firm friendships with rosarians from Northland to Bluff.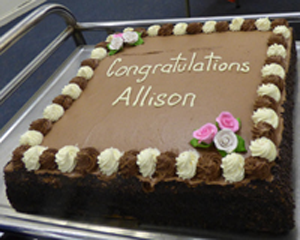 The 50 years have seen me establish 10 gardens in new homes; but the heady days of growing 500 plus have passed I now have a very sensible 20 large roses and around 60 miniatures.
I have enjoyed it all.
We helped Allison celebrate with a delicious cake.
Two of our members ran a raffle with amazing prizes and made a profit of $3,000. This marvellous effort meant that our subscription could remain the same and it also subsidised our wonderful bus trip and Christmas dinner.
We have lost a few members this year through ill health, moving to retirement living and some through dissatisfaction with our meetings. Bearing this in mind the Committee has some new blood and is working to provide a positive environment where all members can participate and be reflected in our activities and programmes.
We were fortunate to have 3 members of the Manawatu Rose Society travel down to our meetings as guest speakers during the year.
In February, Hayden Foulds came and shared his wonderful trip to China for the Beijing Convention and Rose Show. The Rose Museum there sounds amazing. The Chinese know how to do things in a spectacular way.
Peter Elliott talked about the trial grounds and brought blooms to share – some pretty nice ones too considering how disastrous our summer weather has been!
John Ford talked about and showed some of his lovely roses.
We appreciate these rosarians sharing their passion and knowledge given they still had a long drive home afterwards.
A number of committee members helped with the pruning at the Te Omanga Hospice Gardens. The Society also donated Neutrog for the gardens. The Hospice rose gardens are maintained by a small group of dedicated women.
Although the Hutt Valley Rose Society was unable to stage entries for the Wairarapa Rose Ranfurly, some members still went over and enjoyed the day amongst the roses.
Our Rose Show in November, combined with the Horticultural Society was at the Dowse Gallery in Lower Hutt (as the rebuilding of the Horticultural Hall is still underway). The first day was a torrential downpour, but fortunately on Sunday the sun came out and we had many visitors who came and admired the many entries.
---