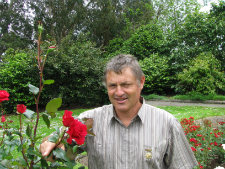 Tauranga rose breeder Rob Somerfield of Glenavon Roses swept all the awards from the recently announced New Zealand International Rose Trial Ground Awards in Palmerston North. This is the first time a rose breeder has won all the awards presented for a single trial and confirms Rob's reputation as New Zealand's leading rose breeder.
The trials, which are operated as a partnership between the New Zealand Rose Society (Inc) and the Palmerston North City Council, aim to trial un-released rose varieties from leading New Zealand and International rose breeders with the view to their possible release onto the local market.
At the conclusion of each trial, those roses which have gained an average of 70% are recognised with awards and reflects the consistently high performance that they have achieved over the two years of trial. This year's trial has seen 20 judges assess  entries in areas such as freedom of flowering, health, plant quality, flower quality and fragrance.
Gold Star of the South Pacific
for the highest pointed rose on trial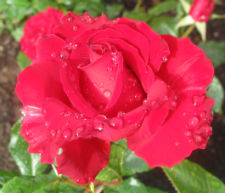 'Love Heart' (Somsirwith)
Medium red blooms are produced on long stems, ideal for picking for a vase. Medium to tall growing with a slight fragrance. This is Rob's 4th Gold Star award with his previous winners Star Quality (2004), an un-named seedling (2006) and Sunline (2007). To be released by Glenavon Roses in Winter 2010.
June Hocking Fragrance Award and Certificate of Merit
for the most fragrant rose on trial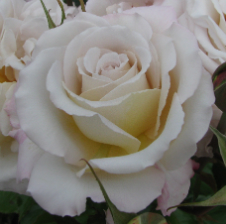 Crème de la Crème (Somwarcent)
 Medium sized blooms of an attractive blend of coffee and cream with an alluring fragrance. A medium growing plant with glossy disease tolerant foliage.
To be released by Glenavon Roses in winter 2010
Certificate of Merit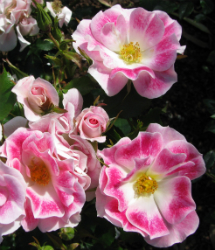 'Picotee', (Somcarpaint)
An eye-catching and novel rose with clusters of 'handpainted' pink and white blooms. Low growing and bushy, this variety is extremely healthy with glossy foliage.
To be released by Glenavon Roses at a later date
The trials, now into their 40th year, are located within the Dugald Mackenzie Rose Garden, one of New Zealand's premier rose gardens located with the Victoria Esplanade Gardens in Palmerston North. More information on the trials can be found here