A Life with Roses
David Ruston with Sue Zwar.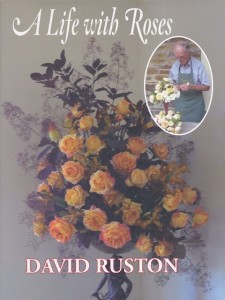 Rosenberg Publishing Pty Ltd 2011
Reviewed by Hayden Foulds
Australian rosarian extraordinaire David Ruston delights us with his latest creation, a book celebrating his lifetime involvement with the Queen of Flowers.
'A Life with Roses' tells us David's story from his early years in Renmark through to the development of his world famous rose garden and his involvement with various organisations around the world. We also hear of David's many travels, including his several trips to New Zealand, all told in David's unique style with many stories and plenty of the well known Ruston humour along the way. A collection of articles that David has written for various publications is included, giving a wonderful historical account of his thoughts over the years.
No doubt the greatest feature of this book is the in depth look at flower arranging for which David is known worldwide for his magnificent arrangements. Numerous arrangements are illustrated with beautiful photos and commentary from David about what flowers and other plant material he has used and the container he has chosen.
At the back of the book is a comprehensive appendix outlining the care required for various flowers that can be used in arrangements.
David's book is a rosarian's delight and is a very worthwhile addition to any rosarian's bookshelf.
If you wish to obtain a copy, contact Hayden Foulds.