Its almost rose pruning time in New Zealand so its time to think about pruning yours – roses are usually pruned between late June and mid August depending on where you live.
Despite what is often said or written about rose pruning being difficult, it is actually very easy provided a few basic principles are followed. If you are not sure on what to do with your roses, one of the best ways to learn is to attend a pruning demonstration that many rose societies hold around the country. In a friendly, relaxed environment, you can learn what to do from local rose experts – they are only to happy to share their knowledge and experiences, and answer any questions.
Check back here or see our Facebook page as more details become available on pruning demonstrations. Contact us if you have any questions or wish to be put in touch with your local rose society who can help.
Check out the special edition on pruning put out by the New Zealand Gardener magazine which covers all aspects of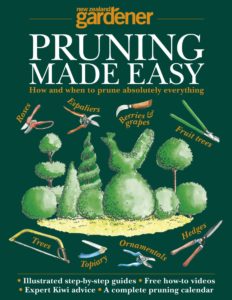 pruning a wide variety of plants including roses. Order your copy here or find it on sale at bookshops, supermarkets and garden centres around New Zealand.
Bay of Plenty: The Bay of Plenty Rose Society are sponsoring a rose pruning demonstration in store at Mitre 10, 67 Jellicoe Street, Te Puke on Tuesday 16 August 2016  from 10.30 am to 11.30 am and again at 1.30 pm to 2.30 pm.
Another session will be held on Saturday 20 August 2016 from 10.30 am to 11.30 am.
Spot prizes for attendees.