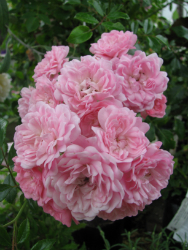 This month, we go back in time and feature a rose bred way back in 1932 yet is still as popular as ever today.
The Fairy is a shrub rose that could be considered a fore bearer to the modern Flower Carpet roses of today as it is very easy to grow, free flowering and very disease tolerant. In short, one of the easiest roses to grow in a wide variety of conditions.
Throughout summer, the plant is rarely without flowers which are pale pink and cover the arching, spreading plant.
In the garden, The Fairy can be used in a variety of situations including a low hedge, ground cover or in a container. It also makes an excellent weeping standard rose in the garden and can even be used as a very low climber if desired.
 If pale pink is not your colour, then there are three naturally occurring sports or mutations available with the same characteristics of The Fairy, but with a different colour – Lovely Fairy (bright pink), Fairy Queen (medium red) and Crystal Fairy (white). All are well worth growing.
The Fairy was bred by Bentall in the UK and is popular all over the world.