This month we feature a patio rose that has been very popular in New Zealand since its introduction around 20 years ago.
Little Opal covers itself in well formed, pale pink blooms all summer long. It has become a favourite with many rose exhibitors at shows around the country. It has nice long stems for a patio and great foliage. At times, the blooms can become a bit large and sometimes almost gets to the size of a floribunda. Grows 60-80cm high but can reach a metre or more in ideal conditions.
As with many roses of this type, it performs just as well in the garden or in a container. It will also look great as a small standard as well under planted with other small annuals or perennials. Generally trouble free in the garden throughout the year.
Bred in New Zealand by Frank Schuurman, who is better known for breeding some great cut flower rose varieties, Little Opal received a Certificate of Merit from the New Zealand Rose Society trials in 1992. A variety well wo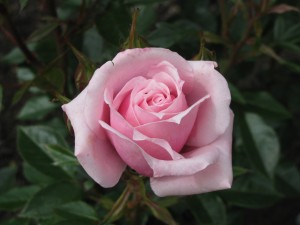 rth growing.