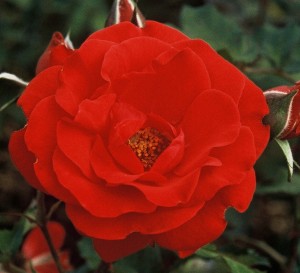 There have been a number of scarlet red roses released in recent years and for this month, we feature one of the best to come onto the market in the last 10 years.
Millennium (which is sometimes sold as Everlasting Love) is a New Zealand bred rose with large clusters of scarlet red blooms all season long. In full bloom, it makes a great display in any garden. For those that like to show the odd rose, it makes a great stem or use it in a vase for a great impact.  Grows to about 1.2 metres high and is very healthy, but like many in its colour range, has very little scent. But what a great colour to have in the garden to brighten things up.
Bred by Doug Grant, a well-known New Zealand rosarian from Molly McGredy x Satchmo. It received the Silver Star of the City of Palmerston North at the NZRS trials in 1997 and also the very first New Zealand Rose of the Year award in 2001 in Hamilton. It is ranked as the 10th favourite floribunda by New Zealand rosarians for 2012 – 13. One worth adding to your rose garden.